ABSS 2020
13 July 2020 - Brisbane
Past Conferences
The Australasian Brain Stimulation Society is proud to invite you to ABSS2020 in Brisbane, July 13-14th.  This conference will be held at The Queensland Brain Institute, a state-of-the-art neuroscience hub within the beautiful surrounds of the University of Queensland St Lucia campus.

The event will feature international and national keynote speakers, symposia and talks from brain stimulation researchers and clinicians, and most importantly, the opportunity to develop and extend collaborative links. There will also be a number of awards presented, and a social event following the first day of proceedings, which will be held at St Lucy Caffe e Cucina, a restaurant located on the grounds of the St Lucia campus.
Event Code of Conduct
ABSS is committed to providing a safe and enjoyable event experience for all participants, and a welcoming environment for free discussion of ideas. We do not tolerate harassment of event participants in any form. If you are being harassed, notice that someone else is being harassed, or have any related concerns, please immediately contact anyone on the ABSS Committee
Conference Program
Program will be published here when available.
Featured Speakers
Professor Charlotte Stagg, University of Oxford

Oscillations and Inhibition: towards an understanding of the neurophysiology of motor learning

Professor Jason Mattingley, University of Queensland

Investigating the impact of brain stimulation on brain function in healthy adults.
Venue
The conference will be held at The Queensland Brain Institute, University of Queensland St Lucia campus.
Detailed Visitor Information can be found here
Key Dates
Registration (early bird)

24 Oct 2019 - 10 Apr 2020

Symposium Abstract Submissions

21 Oct 2019 - 21 Feb 2020

Oral/Poster Abstract Submissions

5 Feb 2020 - 10 Apr 2020

ABSS2020 ECR Awards

25 Nov 2019- 10 Apr 2020
Awards
ABSS2020 ECR Awards
There will be two ECR Awards presented at ABSS2020.
ECR Award, 0-5 years post PhD (or equivalent). Eligibility and submission details are provided in guidelines.
ECR Award Guidelines
PhD Award – 'Best brain stimulation thesis'. Eligibility and submission details are provided in guidelines.
PhD Award Guidelines
Applications are due by 5pm, April 10, 2020. You can only apply for one of the awards.
Registration
Registration is open!
Registration includes access to the two-day conference, a ticket to the social event on Monday July 13th, eligibility for prizes, opportunities to liaise with exhibitors, and ABSS membership renewal until next conference.
Full Member: $250 (early bird until April 10, 2020), $300 (after April, 10 2020).
Student Member: $150 (early bird until April 10,  2020), $250 (after April 10, 2020).
Abstract Submission
Symposiums
Symposium Abstracts are to be submitted via email to m.sale@uq.edu.au by Feb 21, 2020.
All symposia will be 60 minutes in total, with a minimum of 3 speakers. Please submit a working title for the symposium, the names of the presenters and their individual abstracts, and a short statement (300 words maximum) outlining what you hope will be addressed in your symposium. If accepted, this symposium summary will be printed in the Conference Handbook.
Oral and Poster Presentations
Please submit your abstract via the form below by April 10, 2020.
ABSS AGM and Webinar
The first ABSS webinar and Annual General Meeting is happening on Friday the 24th of May, 2019.
12:30pm – 1:00 pm (AEST): ABSS Annual General Meeting
1:00pm – 2:00pm (AEST): Special Guest Lecture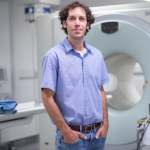 Dr Nir Grossman from Imperial College London will be presenting on:
"Non-invasive deep brain stimulation via temporally interfering electrical fields"
ABSS Members will receive an invite with details on how to attend the webinar. Please contact info@abssociety.com if you have any queries.
2018: ABSS Seminar Day and Launch
The first ABSS Seminar Day and ABSS Launch was held on Friday 17 August 2018 at the Epworth Hospital, Richmond, Victoria.  ABSS Seminar Day Booklet 2018